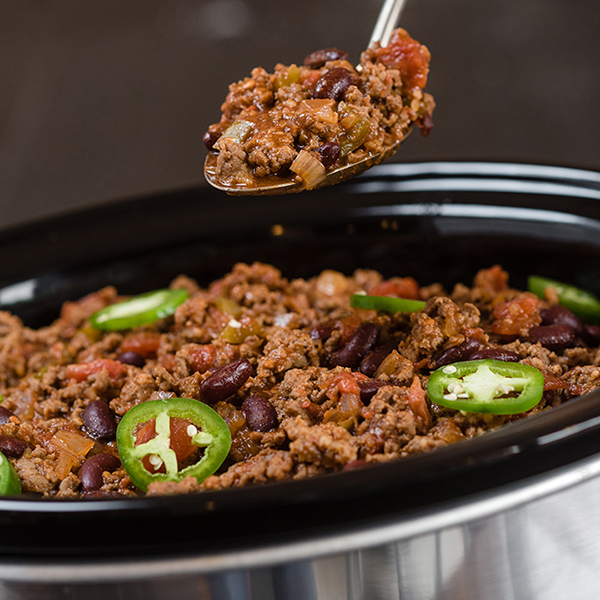 Slow cooking is an easy and affordable way to cook but if you are cooking for one or two, the vast quantities of food a large slow cooker can provide may seem overwhelming. Luckily, there are simple ways to make smaller portions or divide recipes so that you can still benefit from the ease of slow cooking. These helpful tips will let you avoid meal fatigue and save money, all while enjoying a home-cooked meal.
Make More Than One Meal
Even if you're cooking for one or two, you can still take advantage of the slow cooker's ability to cook a large amount of food. How? Meal prep! Shredded Cuban Mojo Pork is a perfect example of a great meal prep slow cooker recipe — it can be served over rice for dinner and in a wrap the next day. A little planning can make for easy meals all week long, thanks to the slow cooker.
Freeze for Later
Soups, chili and even shredded meats can be frozen for use later. Make individual-sized portions of a hearty chili for faster reheating and grab-and-go lunches. Or freeze portions of slow-cooked shredded chicken in heavy-duty freezer containers or bags and add them to meals like casseroles, soups, enchiladas and more.
Adjust Recipe Size
So you pinned a slow cooker recipe that looks incredible, but when you pull up the details, you realize it makes 10-12 servings. If that's too much for your family, or your grocery shopping budget, just reduce the recipe size. For best results, fill the crock at least half full and check for doneness 1 to 2 hours earlier than recipe time.
Try a Meal Exchange
Share the slow cooker wealth. Make a big batch of loaded potato and ham soup and make co-worker's day by giving them a couple servings to take home for dinner. See if some of your friends or neighbors would be interested in a slow cooker meal swap -- that's one free dinner you didn't have to make!
Slow cooking for one or two make take some minimal adapting, but it can definitely be done. If you haven't purchased a slow cooker yet, consider getting a smaller sized one, like a 3 or 4 quart. Mini slow cookers are not only perfect for slow cooking in small portions but entertaining too.
---
Additional Slow Cooking Tips & Techniques