No, you don't need to eat mozzarella sticks and onion rings every night for the air fryer to earn its keep on your countertops. Even though the air fryer is lauded for its ability to create the crispy, crunchy texture of deep-fried food with little to no oil, the perks don't end there. Yes, you can make traditionally deep-fried favorites like chicken wings and French fries, but you can also make rib-eye steak, herb-roasted chicken and even cinnamon rolls for dessert. Ready to push some limits? Here's what you need to know.
Roasting in the air fryer
For the same reasons that air frying is great for fried foods, it's also great for roasting. A little background on how air frying works: Like an oven, air fryers generate heat. Unlike an oven, that heat is circulated rapidly around the cooking space with the help of a fan. This air movement, combined with a cooking basket that allows hot air to reach the food from all angles, results in food with a crispy-crunchy exterior—much like deep-frying, but without the need for gallons of oil.
This same technology is perfect for roasting foods. Roasting foods in the air fryer is much quicker than roasting them in the oven since its compact size allows the air fryer to get to temperature much more quickly and use that heat more efficiently.
The process for roasting in an air fryer is no different than the process for making "fried" foods in an air fryer. Just spritz a little oil on whatever you want to roast and add your desired seasonings. Roasted vegetables, like corn on the cob and Brussels sprouts, come out great in an air fryer.
You can even roast a whole chicken. We love using this method because the skin comes out golden and super crispy while the inside stays juicy and perfectly tender. It's also easy enough to make every week—whip one up on Sunday nights and use the meat as salad toppers, on sandwiches or in tacos for Taco Tuesday. The possibilities are endless.
Here's how simple it is to roast a whole chicken in an air fryer:
Brush a 3-5 pound roasting chicken with vegetable oil. Sprinkle and rub with a rotisserie seasoning blend.
Set air fryer on 375°F.
For traditional basket-style air fryers: Place chicken breast-side up in the air fryer basket. Cook 30 minutes for a 3-pound chicken or 40 minutes for a 5-pound chicken. Using oven mitts, remove the basket and use tongs or meat forks to turn the chicken over. Continue cooking for 30 to 40 minutes more or until the chicken reaches 165°F when tested with a meat thermometer.
For oven-style air fryers: Insert roasting rack in drip pan. Place chicken breast-side up on roasting rack. Position rack in lowest setting. Cook about 1 hour for a 3-pound chicken or 1 hour 20 minutes for a 5-pound chicken (no need to flip). It's done when a meat temperature registers 165°F in the breast or 175°F–180°F in the thickest part of the thigh.
Roasting tips from the Test Kitchen
When roasting chicken in the air fryer, use a light coating of seasoning to prevent the spices from burning.
Remember to shake foods in the basket periodically that are able to be shaken, like vegetables and potatoes, for even cooking on all sides.


Baking in the air fryer
You can also use the air fryer to make baked goods. Baking food in the air fryer can be beneficial because you'll save time by not having to preheat the oven. It's also a good choice for people who are avoiding firing up the oven during hot summer months or if you only want to make a few cookies at a time.
Just remember: the air fryer produces unique results that may be more desirable for some baked goods than others. If you want a somewhat crisp, slightly caramelized crust on top of your banana nut muffins, then give them a go in the air fryer. But if you would rather have a more pillow-soft texture, turn to the oven.
Cinnamon rolls are one of our favorite foods to cook in the air fryer. They cook quicker than they would in the oven, even at a lower temperature (to prevent them from getting too dark on the top). If you're making homemade rolls, make sure to roll them on the small side, since they will cook all the way through more evenly. For store-bought cans of dough, choose the ones containing 8 smaller rolls rather than ones containing 5 jumbo-sized rolls for best results. The refrigerated brand that we used only needed to cook in the air fryer basket for 9 to 11 minutes on 325°F.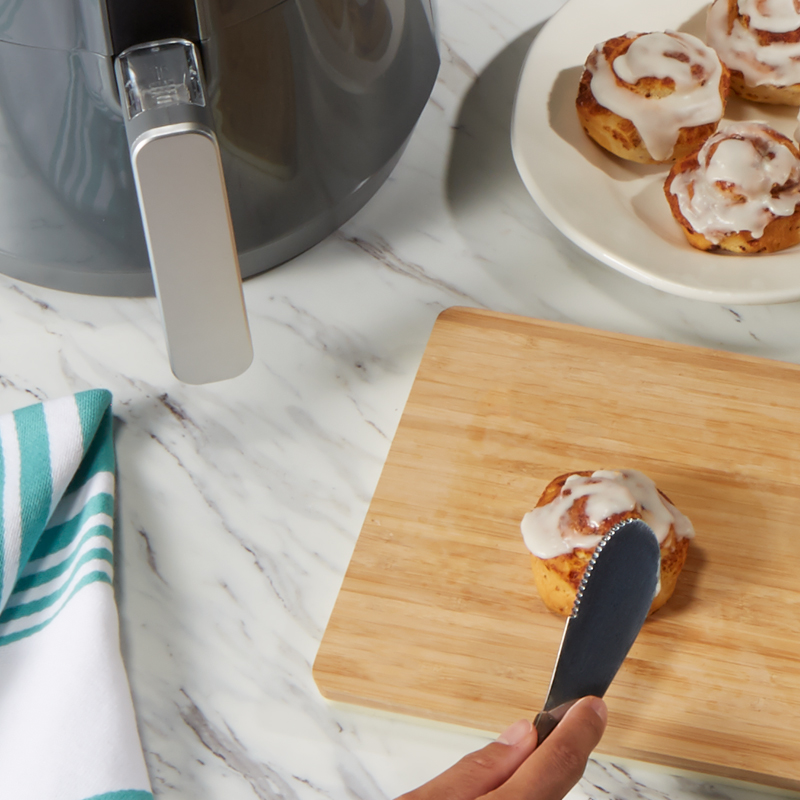 Baking tips from the Test Kitchen
For pre-packaged baked goods like cookies, biscuits and cinnamon rolls, cook at a lower temperature than the recipe calls for to prevent burning.
To make removing delicate foods like cookies or salmon fillets from the basket easier, you may need to line the basket with foil or parchment paper. This way, you can pull the whole lining up and out along with the food when it's done cooking. Fold the edges of the foil or parchment up along the sides of the basket so you have something to grip on to (just make sure to wear oven mitts).
Smaller foods cook more evenly than larger foods in the air fryer. We've found foods like mini muffins, dinner rolls, or cookies are better air fryer candidates than items like a full-size cake or loaf of bread.