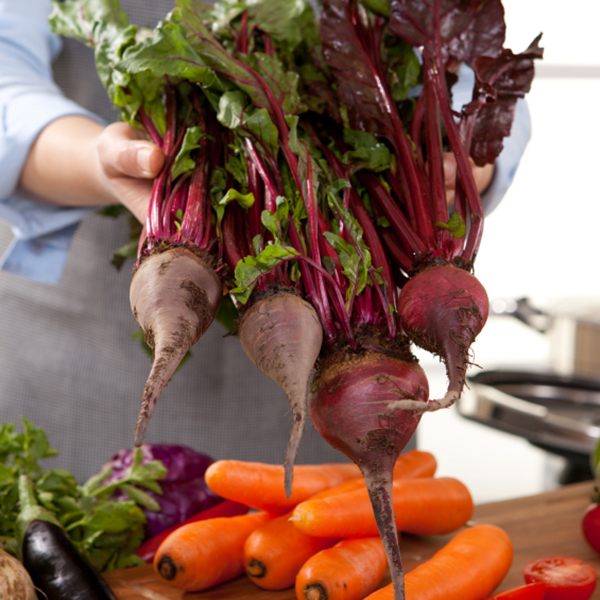 While spring and summer are peak season for fruits and vegetables, there's plenty of winter produce in season as the weather turns cold. And one of the best parts about winter vegetables is how easy they are to store. So whether you've just rounded up your last harvest for the winter, or want to stock up at the farmer's market before it closes for the season, here are our best tips on keeping winter vegetables fresh, along with recipes to try.
Root Vegetables: Beets, Carrots, Parsnips, Turnips
Many root vegetables are available year-round, but some reach their peak freshness in late fall. Keep in mind that the root is your vegetable, so it's very important to start by trimming the greens off the top. If you don't, the greens will try to keep growing and deplete the moisture from the root – your vegetable.
Root vegetables do best in a dark, cool and moist place. You don't have to wash them beforehand, but if you do, make sure you wrap them in plastic before setting them in the fridge. When you're ready to cook with them, just peel the tough skin off with a vegetable peeler and dice or cut your root vegetable to your preference.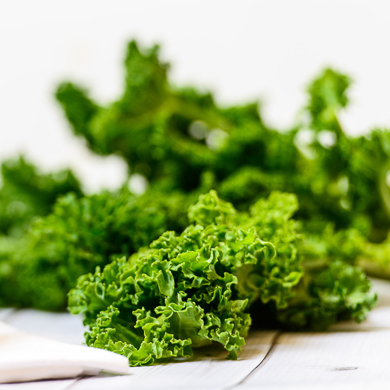 Most root vegetables can be eaten raw, making them a perfect base for winter salads, like Spiralizer Beets with Orange and Goat Cheese Salad. They're also great substitutions for starchy potatoes – try roasting them with a little olive oil, salt and pepper. Or add a different flavor — and more nutrients — to classics like this Root Vegetable Mashed Potatoes recipe.
Green Leaf Vegetables: Broccoli, Brussels Sprouts, Cabbage, Cauliflower, Kale and Collard Greens
Even though it may seem wrong to have leafy greens in the dead of winter, there are plenty of hearty green vegetables that produce vegetation throughout the cold months. And they couldn't be easier to store – they can go from straight from the ground to your fridge. When you are ready to use them, wash your vegetables thoroughly, and trim and prep them for your recipe. For cabbage, just discard the outer leaves before cutting and coring.
The "eat your greens" rule applies to these winter vegetables, too. They are packed with nutrients to keep you healthy during cold and flu season. Glazed Brussel Sprouts with Bacon make a perfect side dish, while Mediterranean Cauliflower Rice can serve as a stand-in for the more starchy variety. Make a simple and hearty slow cooker dinner of Minestrone with Kale and Kielbasa.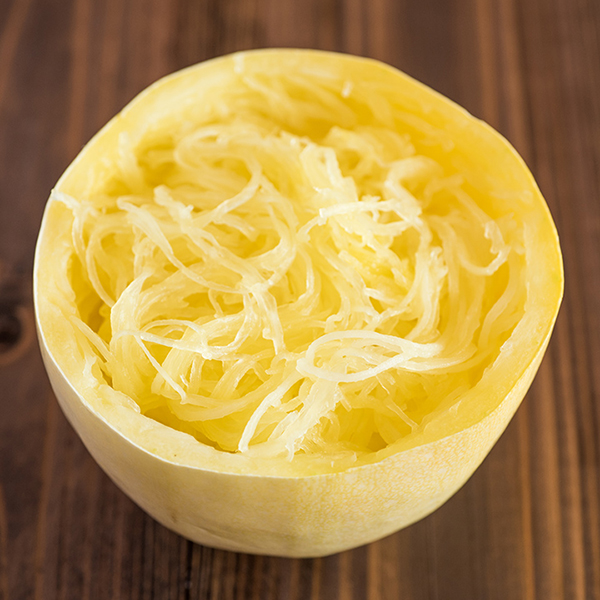 Try swapping out that boring veggie tray at the big game with these Buffalo Cauliflower Bites.
Squash: Butternut, Acorn, Spaghetti
If you've only been using squash as seasonal decorations, you're missing out. These winter fruits offer up sweet, mellow flavors along with nutritional benefits. They're all incredibly easy to store – just leave them on your pantry or countertop (out of the sun) and until you're ready to use them in your favorite recipe.
Prove to the kids that a vegetable can be as tasty as noodles with spaghetti squash. This Slow Cooker Spaghetti Squash makes it simple to roast them to perfection— just add a little water and let the slow cooker do the work. When your squash has finished cooking, gently pull the strands apart and add your favorite sauce on top. Wow your guests at a holiday dinner with Sausage and Apples Stuffed Acorn Squash, or make a seasonal side that's full of flavor and color like a Warm Butternut Squash and Quinoa Salad.
Potatoes & Sweet Potatoes
You don't need a cellar like the old days to take advantage of a potato's long shelf life. Just make sure you put them in a dark, dry and well-ventilated place in a single layer to prevent them from sprouting. If your potato does sprout, it doesn't necessarily mean it's ruined — you can just remove the sprouts and move ahead with your prep. If it's wrinkled and shrunken, toss it out.
Potatoes are the best side dish for just about anything and are great for roasting alongside a meat in a sheet pan supper like Chicken Thighs with Roasted Rosemary Vegetables. They also make a satisfying meal on their own when you bake them in the slow cooker for Loaded Baked Potatoes. Just because sweet potatoes are sweet doesn't mean they can't be savory –add a compound butter like Salted Garlic Herb to give them a different flavor.
Onions, Garlic and Shallots
Onions are available year-round, but if you've recently harvested a bunch from your garden, there are just a few things to keep in mind. Similar to potatoes, they should be kept in a dry, dark spot – like a pantry or in a cabinet.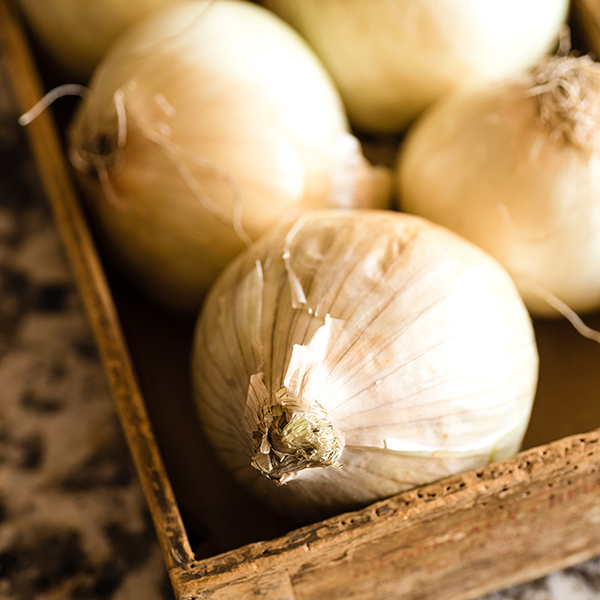 If onions bring on the tears as you chop them, consider putting them in the fridge or freezer before cutting.
The flavor of onions, garlic and shallots can vary greatly depending on how they are prepared. Served raw, they'll be sharp and strong. If you sauté them, they'll be a little less intense and caramelized, practically sweet. One of our favorite tricks to creating caramelized onions is letting a slow cooker do all the work to bring out that golden-brown color and sweet flavor. Try this hack next time you're making a big batch of French onion soup, or freeze your caramelized onions in batches to add into meals later.
As winter approaches, keep the variety of winter vegetables in mind as you map your meals for snowy days, cold nights and the holidays. These veggies can be the base for a new favorite comfort food for your family to enjoy.