An ode to breakfast sandwiches
There's a lot of good things to say about breakfast sandwiches. They're portable, filling, delicious and convenient. But the best part about breakfast sandwiches is how customizable they are.
No matter what your diet or personal preferences are, there's a breakfast sandwich for you. If you are trying to eat healthy foods, you can use egg whites and add some spinach or a slice of tomato. If you thrive on extra cheese, you can pile it high. If you're a vegetarian, you can use your favorite meat substitute.
You can completely customize your breakfast sandwiches when you make them at home. Plus, DIYing them saves you from stopping at the coffee shop or drive-through on your way to work or class, which is just money out the window.
Some mornings, though, there's just not enough time to pull out multiple pans and dishes, heat up a skillet and get the toaster in gear. That's the problem the Hamilton Beach breakfast sandwich maker is here to solve.
What in the world is a breakfast sandwich maker?
This is a fair question. There's nothing quite like Hamilton Beach's breakfast sandwich maker. In a nutshell, it's a small appliance that helps you assemble and heat all the layers of a breakfast sandwich at once, the most convenient of which is a freshly-cracked egg. After a few minutes, the layers get stacked together to form a cheesy, melty breakfast sandwich that you just need to taste to truly understand. With this little appliance, you can be in and out of the kitchen each morning in just minutes.
Here's the basic idea: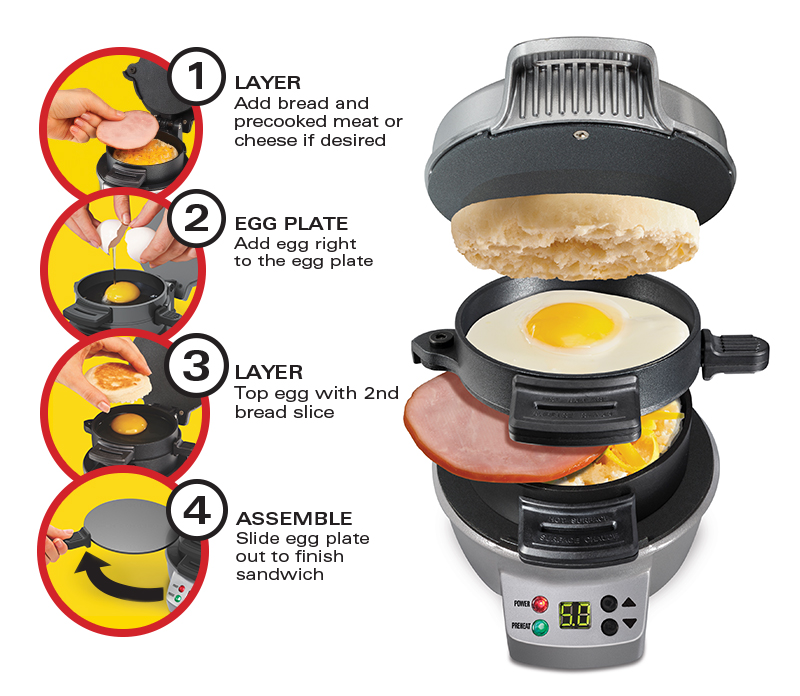 How many ways to make a breakfast sandwich can there be?
These sandwiches are all about your personal preference. You might want to start with some of our tried-and-true recipes, like a cheesy egg and sausage biscuit or a bacon, egg and cheese bagel. Once you've leveled up, feel free to invent your own. Here's just a sampling of the ingredients you can mix and match:
Bread: Use a bagel, English muffin, croissant, sandwich thin, waffles or even 2 small frozen pancakes.
Meat: Try precooked sausage, bacon, Canadian bacon, turkey bacon, ham or a vegetarian meat substitute.
Egg: Use a scrambled egg or a couple of egg whites.
Cheese: Cheddar, mozzarella, American and Swiss go great on egg sandwiches.
Other: Experiment with spinach, avocado, tomato, apple slices and peppers.
Don't stop at breakfast sandwiches. You can also make lunches, dinners and snacks. Try out a few of these out-of-the-box recipes or create your own (more on breakfast sandwich maker hacks here ):
Bonus: It's the perfect make-ahead meal
If you still don't see yourself making breakfast every morning, good news: breakfast sandwiches freeze very well. Cook a few on the weekend, and you can grab them on the go all week long.
For best result in the freezer:
Let the sandwiches cool to room temperature and wrap individually with plastic wrap. Then put them in a large bag and store in the freezer.
When it's time for a quick breakfast, just remove one sandwich, wrap it in a paper towel and defrost in the microwave for a minute and a half. Then, cook on high for about 1 minute.
Ready to get started? Click here to shop breakfast sandwich makers now.