While your "to do" list may have many chores you'd like to avoid, few seem to be more disliked than ironing. It's a chore that tends to incite procrastination, and there are dozens of tricks people have tried to avoid ironing, such as:
Hanging clothes up as soon as they come out of the dryer and letting gravity do the work
Adding a damp cloth or an ice cube to a load of previously dried clothes and running the dryer again
Hanging clothes near a hot shower
Using a mattress to press the garment by rolling it up like a burrito and putting it under a mattress for an hour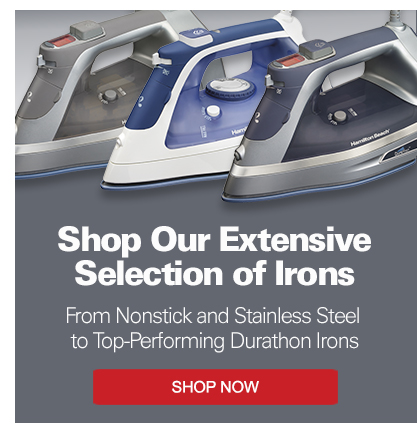 While these tricks may help minimize the amount of wrinkles you are dealing with, you still won't end up with a truly crisp end result. Those methods can save you from looking completely disheveled in a pinch, but if you are looking for crisp cuffs, a sharp collar, and polished look, you'll ultimately need to pick up a hot iron.
To help you make quick work of smoothing out wrinkles and streamlining your ironing, we've rounded up our top ironing tips and techniques below. After, click each link to get more information on how to get the most out of ironing.
Top 5 Ironing Tips & Techniques
You may have heard the terms "ironing" and "pressing" used interchangeably, but they are actually two different dewrinkling techniques. When ironing , you slide the iron back and forth over the fabric. When pressing, you place the iron on the fabric and hold it on one spot, lifting up and repeating the process until all the areas needing attention are smooth. Pressing is particularly helpful to avoid stretching fabrics.
In some cases, ironing on both sides of the fabric is helpful. For shirt collars, cuffs, pockets, or hems, the double thickness of the fabric can make it difficult to smooth wrinkles but ironing first on the inside and again on the outside of the fabric will help make quick work of it.
If you are trying get out stubborn wrinkles from clothes, curtains, or linens, ironing while they are damp or adding dampness by using a starch spray or light spritz from a water bottle will make it an easier task. Using steam is especially beneficial when you are ironing collars and other items with double layers of fabric.
Using a pressing cloth can help reduce unwanted shine on fabrics. You can purchase a pressing cloth in the laundry care section, or a clean white dishtowel or 100% cotton pillowcase works equally well. You don't need to increase the recommended iron temperature when using a pressing cloth.
Be prepared to hang your newly ironed clothes, crafts, linens or other items immediately so they don't wrinkle again. Have hangers nearby to drape longer items like tablecloths and curtains or to hang up your freshly pressed clothes.
---
Additional Ironing Tips & Techniques:
The Utimate Ironing Guide