Whether it's a hand-me-down iron from your parents, a gift when you went off to college, or a quick purchase you haven't thought a lot about since, replacing your iron probably isn't something that's in the forefront of your mind. The truth is, you want the iron to get the job done and you may not actively think about all the improvements that have been made in the ironing world over the last few (or many) years since yours was new(er).
So what's changed since you've been slogging through that pile of laundry? In two words - a lot.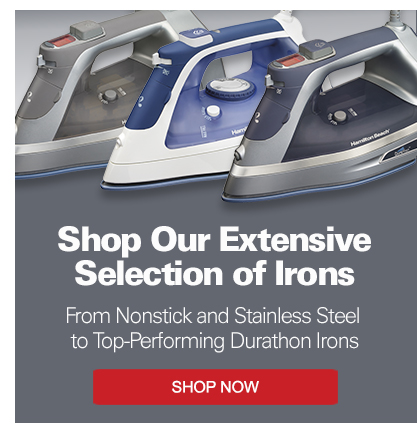 Iron Features
Retractable Cords - Provides simple and convenient storage.
Pivoting Cords - Turn the cord so it helps keep wires out of your way whether you're a leftie or a rightie.
Automatic Shut-Off - When you're dealing with something this hot, a feature that turns your iron off when it's left on its heel too long or tips over is a safety feature you may not be able to afford to miss.
Electronic Temperature Controls - Allow you to select your fabric/temperature using buttons that light up on the selected setting. In some irons, the light will blink as the iron heats up and remain lit when the iron has reached the desired temperature.
Anti-Drip - Keeps water from leaking onto clothes when iron is on a low heat setting (when it cannot generate steam).
Steam Holes - Your current iron may have steam holes, but more holes means more steam so it may be time for an upgrade.
Self-Cleaning - Removes lint and minerals from steam holes to extend iron life.
Stronger Heat - Higher wattage means stronger heat which will provide a more effective steam to beat wrinkles easily.
Soleplates - Do you go with a non-stick or stainless steel surface? What's the Durathon difference? Some surfaces grip the fabric a bit more while others glide smoothly over it. Keeping your soleplate clean is key.
More on Soleplate Selection
The soleplate of your iron matters- it's the piece that actually makes contact with your clothes and can make a significant difference in your ironing experience depending on your needs.
Aluminum – This dull, gray metal is an excellent value for crafters.
Non Stick – Easily glides on fabrics and doesn't stick, even when using starch. Our nonstick irons combine powerful wrinkle-removing steam performance with the convenience of a nonstick plate that resists starch buildup for easy care. Affordable and practical, non-stick irons can offer powerful blasts of fine-mist spray and adjustable steam to make ironing easier.
Stainless Steel – Has a high shine and offers longevity. With their sleek metal ironing plates, our stainless steel irons glide easily over clothes for fast, effective ironing. The durable stainless steel plate is scratch-resistant and heats up quickly. Powerful steam, blast and fine-mist spray target tough spots. And auto shutoff and self-cleaning features mean simple maintenance.
Ceramic – Hard surface, doesn't scratch, smooth and good glide. Not commonly found in the US.
Durathon® – The best of the non-stock and ceramic soleplate worlds, Durathon soleplates consist of 2 layers of ceramic which are covered with the Durathon non-stock coating, exclusive to Hamilton Beach. 10 times more durable than traditional non-stick irons backed by a 10 year limited soleplate warranty. It simply outperforms and outlasts most irons on the market—period.
---
Additional Ironing Tips & Techniques:
Ironing Out the Differences: Picking the Best Iron