How to Choose the Best Food Processor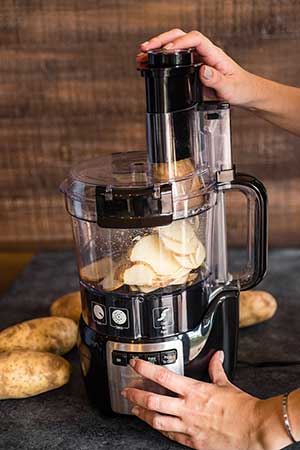 Food processors are one of the most versatile appliances you can add to your kitchen collection. Available in a variety of models, from budget-friendly basics to fully-loaded styles with lots of features and functions, it can be hard to figure out which one to buy.
Of course, which one you should choose boils down to how you plan on using it. If you only tend to make small-batch recipes periodically, it wouldn't make sense to dedicate the cabinet space and budget to a 14-cup pro-style model. On the flip side, you would be better off investing in the extra features if you've found that the food processor is a staple in your meal-making. Whatever your lifestyle, here's some food processor shopping tips to help narrow your choices.
Size It for Your Lifestyle
You'll want to start by figuring out how large of a food processor you are looking for. If storage space is a big consideration, look for a compact model, which might hold 4 - 8 cups of food. Hamilton Beach's largest food processor on the market, great for large families or frequent entertainers, can process up to 14 cups at a time.
When comparing bowl capacities, keep in mind that the true liquid capacity is much higher for units with a sealed bowl (no hole in the middle). This is particularly important if you plan to make soups and dressings. The Hamilton Beach Stack & Snap™ line of food processors all come with a sealed bowl, resulting in higher liquid capacity versus traditional twist-lock models.
Choose Your Assembly Style
Though Hamilton Beach makes plenty of food processors with a traditional assembly style – requiring twist locking the bowl onto the base and the lid onto the bowl – some home cooks prefer a quicker, easier method of assembly. The Stack 'n Snap® series of food processors makes it easy to fit the bowl directly on the base with no twist locking required. The lid snaps securely to the bowl with either clips or a locking arm.
Factor in the Feed Chute Size
Some models feature extra-large feed chutes, like Hamilton Beach's Big Mouth® series of food processors. One of the main benefits of a larger feed chute is the ability to fit foods like a whole potato, whole tomato or several carrots at once, allowing you to skip the pre-cutting, saving time and making it easier to prepare large batches of food. You'll also get more precise results when you use whole ingredients instead of pre-cut ones. If you prefer the simplicity of a standard chute (which does not require a safety interlock), look for models that fit a whole block of cheese.
Choose the Attachments
Usually different food processors will come with an assortment of discs and blades to serve a variety of food preparation tasks. Most food processors come standard with a chopping/mixing blade and a reversible slicing/shredding disc. These are great for common tasks like shredding a block of cheddar cheese, mixing up a batch of hummus and slicing cucumbers quickly for a salad. Higher-end models may come with adjustable slicing and shredding blades so you can customize the thickness of the cut or the coarseness of the shred. More extras that you might look for are dough blades, dicing discs or crinkle cut discs.
More Bells and Whistles
Another feature you might find in Hamilton Beach food processors is a built-in bowl scraper. Sometimes during food processing, you may find that ingredients stick to the walls of the bowl and you have to stop, take the lid off the processor, and mix the ingredients back toward the blade. The built-in bowl scraper feature makes it possible to scrape the sides of the bowl without having to disassemble the food processor, saving you time.
There's no one-size-fits-all food processor, but they all have features and functions dedicated to making your time spent in the kitchen easier and more enjoyable. By thinking about what is most important to you, you can begin to narrow down the many choices until you have found that perfect fit.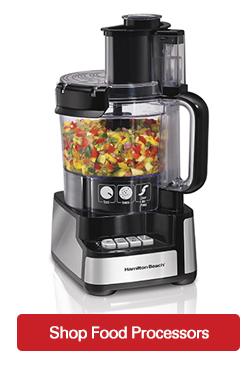 ---
Additional Tips & Techniques