Drinking the best home-brewed coffee starts with choosing the right coffee maker. We've rounded up our top tips to guide you through the process and help you decide which kind of brewer will meet your needs.
Start with Capacity
If you have more than two coffee drinkers at home…
Your needs typically will be best met by a 10-12 Cup Coffee Maker if you are serving more than two people at a time. There are times when you may want to go bigger, like during the holidays or when you're hosting a party. In that case, you want a Coffee Urn that can serve up to 42 cups and that will keep coffee hot without overheating.
If you always have leftover coffee…
If you end up with too much leftover coffee, consider scaling down to a 4-6 Cup or a Single-Serve Coffee Maker—either will scale down your coffee making so there's less waste. Leftover brewed coffee doesn't have to be a problem because there are many different ways to use your leftover brew—from storing your leftover coffee in the refrigerator so you have on-demand iced coffee (just add a little milk and ice), to freezing it into coffee ice cubes so it doesn't dilute your iced coffee as it melts.
Think About Timing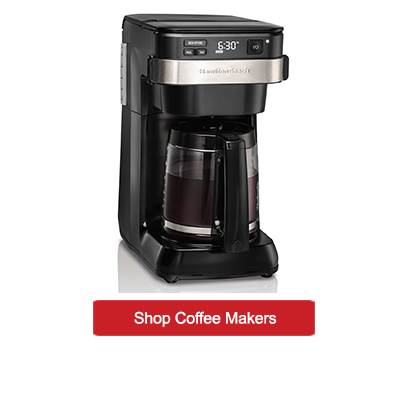 If you need coffee to kick-start your morning…
If you want your coffee hot and ready as soon as you roll out of bed, a Programmable Coffee Maker should top your list. You can set the hour, minute, and time of day you want to start brewing which means your coffee will be ready and waiting for you.
If you need lots of quick "fill-ups" when you're busy throughout the day…
Forget the carafe and skip the pouring. BrewStation® coffee makers have easy, one-hand dispensing with no carafe, no pouring and no spills. Hot coffee is ready when you are throughout the day whether you need a quick top-off or a whole fresh cup.
If you need the flexibility to grab a single cup of coffee or make a whole pot…
Look for Dual Coffee Makers that feature multiple ways to enjoy your coffee. These coffee makers will likely have a carafe on one side so you can enjoy multiple cups of coffee or make coffee for a crowd, and on the other side you'll get the convenience of a single cup you can grab and go.
Put Taste First
If it takes an hour or more to finish the pot of coffee at your house…
Look for a coffee maker that doesn't have a hot plate that can turn coffee bitter if it sits too long. BrewStation® Coffee Makers hold in heat and flavor for hours with an enclosed brewing system and gentle keep-warm heater. You brew a full pot of coffee the way you always have and you can dispense it one cup at a time. Alternatively, brew each cup fresh with a Single-Serve or One-Cup Coffee Maker so you can brew a fresh cup when you're ready.
If everyone likes a different strength or flavor of coffee…
With Single-Serve or One-Cup Coffee Makers, everyone can brew their own personal cup of coffee. You may want to select a brewer like the FlexBrew® Single-Serve Coffee Maker that gives you the flexibility of using freshly ground coffee or a pod.
If you're tired of stale-tasting coffee…
Pick up a bag of fresh-roasted coffee beans and grind them yourself with a Coffee Grinder. You can get the exact texture you want every time with well-defined fineness settings that guarantee perfect results. Whether you're brewing with a French Press, an Espresso Machine, or a coffee maker that uses a flat-bottomed filter, you'll get the perfect grind for every brew.
If you love the rich taste of espresso but not the in-store price tag of a daily cup…
Make your own espresso at home and pocket the change. Espresso Machines can make the per-cup cost of espresso shots more affordable while delivering authentic, café-quality beverages at home.
Additional Coffee Tips:
10 Reasons to Clean Your Coffee Maker