Creating a Sensation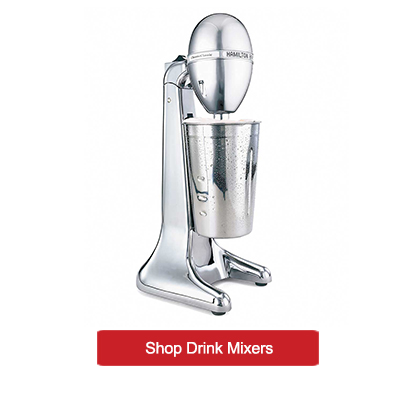 We've been mixing things up at Hamilton Beach for over 100 years! In 1911, our original drink mixer created quite the sensation making malts for eager customers in drugstore fountains across America. Throughout the early twentieth century, our drink mixers were busy mixing treats in almost every local soda fountain and ice cream parlor. With over a century of innovation and design, our powerful drink mixers are still a mainstay in many homes and busy restaurants.
Soda Jerk & Lingo
Back when sipping on a straw at a soda fountain was a slow pleasure at the end of the school day, the "soda jerk" was the clerk who made your order. A special lingo was used by the in-crowd to order up a custom creation. If you said, "shake one van and mash it," you'd get a vanilla shake with mashed bananas. "Spit in it" meant raspberries were mixed into your drink, while "spit on it" meant raspberries decorated the top. "Fuzzy" added peaches to the mix, "gravel" added nuts, and a request for "Chicago" added pineapple juice or soda.
At Home Soda Fountain
The classic style of our drink mixers may take you back to the days of shakes and malts at the local soda fountain, but they make it easy to recreate the same frosty beverages at home. Mixing versatility is optimized with two speeds, and you can even make fluffy batters and beat eggs for omelets with it all with the convenience of an easy-clean, tilt-up design. Have fun at home trying a few of our classic soda fountain-inspired recipes below or put your own spin on an old favorite by using our scoop on Soda Jerk Jargon.