If you're a true food lover, it's hard to resist those prepackaged gift sets decking every store in abundance during the holidays. Filled everything from coffee syrups and beans from a local roaster to gourmet tomato sauce and wine, they can be hard for anyone to pass up.
This year spread the cheer by customizing a festive gift set at home. By adding your own personal touch, you're sure to please any coffee connoisseur or foodie on your list and a DIY version of these holiday gift baskets can be a much more personal gift. So put on your elf ears and follow these easy steps for a sure way to add a bit of joy to the season.
Coffee Grinder Gift Basket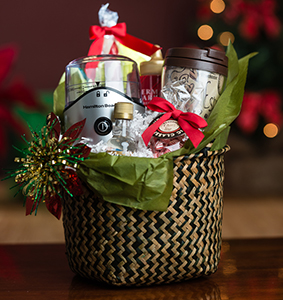 Choose a medium-sized gift basket and fill with tissue or crinkle paper.
Select your preferred coffee grinder, remove it from the packaging and place into the basket.
Add a bag or two of delicious coffee beans from a favorite or local roaster.
Choose a travel or regular coffee mug that fits the personality of your gift recipient and add to the basket.
Add colorful, boutique candies and coffee syrup as a special treat.
Decorate with seasonal ribbon and a bow.
Share your great gift and make someone's day.
Breakfast Gift Set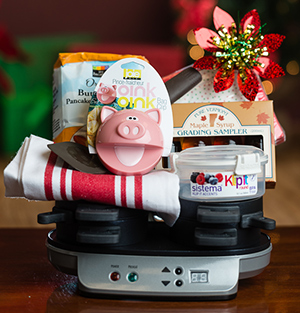 Choose the base of your breakfast-themed basket and add a Breakfast Sandwich Maker (or the Dual Breakfast Sandwich Maker to make two hot breakfast sandwiches at once).
Include a mini spatula, your favorite breakfast treats like English muffins or pancake mix, and a perfectly sized storage container for quick and easy breakfasts they can take to go.
Decorate with a festive bow or ribbon.
Give the gift of easier mornings with hot breakfast sandwiches in 5 minutes or less.
FlexBrew® Single-Serve Coffee Maker Gift Set
Choose your favorite Hamilton Beach single-serve FlexBrew® coffee maker. There's a variety so be sure to check out all the different functions and choose the one that best fits the needs of the recipient.
Remove coffee maker from packaging. No gift basket is required!
Choose a festive oversized coffee mug and fill with crinkle paper. Place at bottom of coffee maker.
Add colorful candy stirrers and coffee syrup to the mug as a special treat.
Tie with ribbon and add a large bow on top.
Give a gift that will remind someone how special they are each day as they enjoy their favorite cup of Joe.
Slow Cooker Gift Set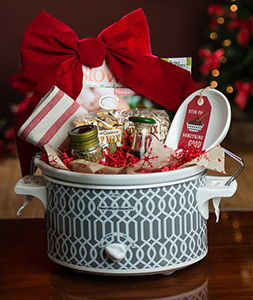 Choose your favorite slow cooker and fill with tissue or crinkle paper.
Add a slow cooker cookbook sure to provide inspiration for delicious and easy slow-cooked meals, or even a cooking magazine subscription.
Add popular flour sack towels that match your theme or are fun and festive.
Add a bag or two of seasonal soups, jars of gourmet pasta sauce, or fragrant spices to create a themed gift set anyone will love.
Wrap it all up in a cellophane bag and tie it off with a big red bow.
Give a gift that will warm someone's heart and stomach this holiday season.
Smoothie Gift Basket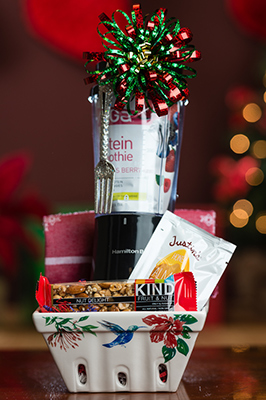 Pick the base of your gift set—any kind of basket or container will do—just fill with tissue or crinkle paper so all your gift ingredients can peek out.
Select a Personal Blender that features a single-serve jar that doubles as a travel mug—perfect for everything from fitness shakes to nutritious smoothies, just blend in the jar, grab it and go.
Add a smoothie recipe book, single-serve packs of nut butters, snack bars or protein powders to round out the gift.
Decorate your gift with a bright red bow, add a gift tag, and share your thoughtful gift with a friend or family member.