Fresh fried chicken with a crackling crust and tender interior. A lightly fried apple fritter with a satisfyingly sweet crunch. The perfect French fry that's crispy and dark golden brown. Whatever your deep fried desire may be, our Test Kitchen has the expert tips that will help make any fried food you fancy a reality.
Selecting the Best Oil for Frying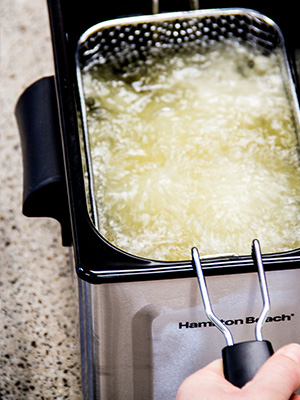 Our Test Kitchen recommends that you start off by using a good quality vegetable or peanut oil for frying. Frying foods in butter, margarine, olive oil, or animal fat is not recommended because of low temperature smoke points. The smoke point is the temperature where the oil or fat starts to break down and subsequently starts smoking. Oils with high smoking points don't break down as easily and are the best for frying to achieve those high temperatures that result in deliciously fried foods. Other tips from our Test Kitchen on oil selection and usage include: use only one type of oil at a time (never mix your oils), use only fresh or only reuse oil (never combine used and new oils), and always use room temperature oil (never use oil straight from the refrigerator).
Changing the Frying Oil
Oil can be reused, but you will want to change your oil regularly to maintain optimum frying and flavor quality. Frying oil takes on the flavor of the food you cooked in it, so you'll want to be mindful of what foods you plan on cooking in oil that's already been used. For example, frying donuts and funnel cake in the same oil would be delicious, but frying donuts after fish would lead to some very fishy tasting donuts.
Other tips from our Test Kitchen on oil usage include:
Oil used for french fries can be used 10 to 12 times before changing if the oil is filtered after each use. Filtering oil frequently keeps it fresh longer. To filter oil, allow hot oil to cool completely, then use cheesecloth or paper towels as a filter to strain the oil.
Oil used for food that is high in protein or moisture (such as meat, fish or fries) should be changed more frequently.
Do not add fresh oil to used oil, and always change the oil when it has a strong smell or taste, or when it turns dark and/or syrupy. These changes indicate that the oil is has broken down and should no longer be used.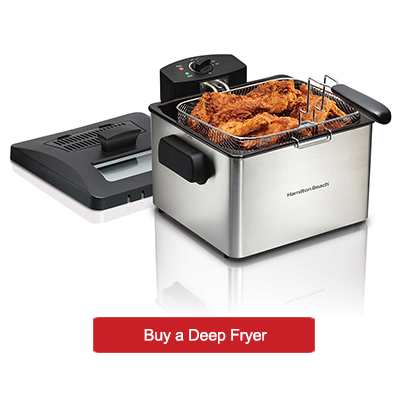 Before Frying
Preparing your food for frying is just as important as selecting the right oil for frying. Follow these tips to make sure your food is ready to fry:
Cut food into similar-sized pieces so they fry and cook at the same rate.
Excess water or ice particles can cause hot oil to splatter or foam. Remove any excess water from fresh food by blotting with a paper towel. Remove any ice chunks or buildup from frozen foods. For example, frozen, uncooked chicken should be thawed, excess water removed, and patted dry with paper towels prior to cooking.
Frying Troubleshooting
Our Test Kitchen answered our top frying food troubles:
If your fried food does not have a golden-brown color or is not crispy, there are a few things that could be contributing to the problem.

The temperature could be too low or the food might not have been fried long enough. Double check the food package or recipe for information on the correct temperature or length of frying time.
There also could be too much food frying at once. Try not to overcrowd your pan or fryer.
Food pieces may be too thick to fry adequately. Try reducing the size of food you're frying.
The amount of oil you're using could be too low.
If oil spills over the edge of your pan or fryer during frying or you experience excessive splattering, there are a few tips that could help reduce splatters and spills:

Make sure you're not using too much oil in your pan or fryer. This is easy to check on a deep fryer- just look at the maximum level mark to make sure your oil doesn't exceed it.
Immerse your food or fry basket slowly and raise it carefully and slowly from the oil when done frying.
Your food could contain too much liquid. When preparing your food, make sure to dry it thoroughly before placing it in the deep fryer.
When frying food with a high moisture content (such as chicken or fries), change the fry oil frequently.
There could be too much food in the fry basket. Don't fry more food at one time than is indicated on the food package or can be safely accommodated in the deep fryer or pan.
The type of oil used may not be suitable for deep-frying food. Make sure you are using a good quality frying oil and don't mix two different types of oil or fat. Using refrigerated oil can also cause excessive splattering, so room temperature oil is always recommended.
Drain your fried food on a paper towel-lined plate. This will help absorb more oil than if you just used a wire rack.
It's better to season food after frying, not before. If you season it immediately after you remove the fried food from the pan or fryer, the seasoning will adhere to the hot food.
Cleaning Up
Clean-up after frying is easier than you might have thought. Plus, since it's critical that you let the hot oil cool completely before disposing of or storing it, you have plenty of time to enjoy your fresh fried food with friends and family before starting to scrub up.
To dispose of old, used frying oil, first let it cool completely for safety. Then, pour the cool oil into its original (resealable) empty plastic bottle.
Use a plastic scouring pad to clean any oil film buildup on your oil tank or follow the care directions on your specific deep fryer or pan.
For additional help in cleaning tough-to-remove grease, you may be able to use a household degreaser.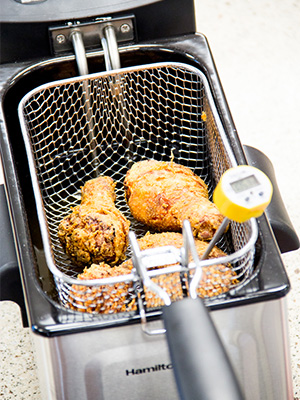 Safety Tips
When working with hot oil, safety is crucial. Follow these safety tips from our Test Kitchen to help make your frying experience a safe one.
When cooking meat, poultry or fish, use a cooking thermometer to confirm it reaches a safe internal temperature. (visit foodsafety.gov for more information on safe internal cooking temperatures)
Never move a deep fryer or pan containing hot oil. Allow the oil to cool completely first.
Do not add fresh oil to used oil.
Do not use plastic utensils in hot oil.
If you're using a deep fryer, escaping steam may cause burns to hands or fingers. Open the lid carefully when you're ready to remove the fry basket.
Never leave frying food unattended, and close supervision is necessary especially when any frying is done near children or pets.
Always exercise extreme caution when cooking with hot oil! Serious hot-oil burns may result if the appropriate precautions are not taken.