Healthy Cooking Made Easy
Spiralizing fresh vegetables is a great way to incorporate more healthy ingredients into your family's diet. Here we've rounded up everything you need to know about spiralizing from selecting your spiralizer to delicious, nutritious recipes you can spiralize now.
Getting Started With Spiralizing
What Is Spiralizing?
Healthy cooking made easy.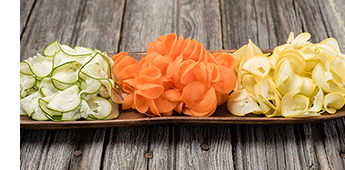 Spiralizing fresh fruits and vegetables is an easy way to lighten up your favorite meals. Make vegetable pasta with zucchini noodles, turn potato spirals into potato au gratin, or create cucumber ribbons for a summer salad—and more! While spiralizing is a great overall way to add fruits and vegetables to your diet, it's also an excellent technique for those with special dietary needs—it's vegetarian, vegan and paleo-friendly while also being naturally gluten-free and low carb.
Types of Spiralizers
How to pick your spiralizer.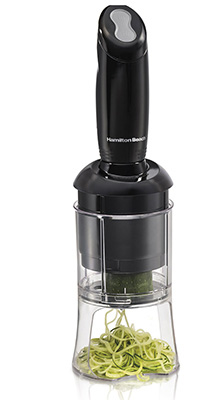 Hand-crank spiralizer models are powered by the strength of your hand and frequently require one hand to push the food, while the other hand turns the handle to rotate the food. Both horizontal and vertical models are available and ease of use can vary. Hand-crank spiralizers can be time-consuming and cumbersome due to being entirely manually operated.
Electric spiralizer models like the Hamilton Beach 3-in-1 Electric Spiralizer eliminate the need for manual turning and cranking. Just assemble, prep your food and spiralize. With light pressure, this electric spiralizer makes preparing a large batch of homemade potato chips or vegetable noodles simple and quick. For maximum maneuverability in your kitchen this model comes with an extra-long 5 ft. cord.
With the right spiralizer in hand, you'll soon be on your way to making delicious and nutritious meals.
3-in-1 Electric Spiralizer
Delicious. Nutritious. Spiralicious.
The 3-in-1 Electric Spiralizer makes preparing delicious and nutritious meals simple and quick.
Included with the spiralizer are three blades that help you turn vegetables into noodles or long strings with the spiral disc, make nearly continuous slices or ribbons with the ribbon disc, or grate foods like hard cheeses and carrots with the grating disc.
The extra-long 5 ft. cord allows for easy maneuverability in your kitchen, while the handle features a comfortable grip and two speed control.
The electric spiralizer is easy to use too: just prep, place and press!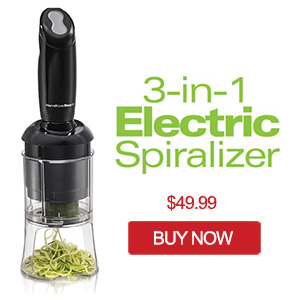 Assembling the Spiralizer
How it all fits together.

With sharp side up, attach disc by aligning the 2 notches in the cutting disc with 2 tabs in the base.
Align mark on food chamber with unlock icon on base. Rotate counter-clockwise to lock.
Attach motor body by rotating clockwise until locked.
Align ribs of food chamber with channels in adapter and slide into place.
How to Spiralize
As easy as prep, place and press.

Cut recommended foods so both ends are flat. For best results, food should be about 1 to 3 inches (2.5 to 7.6 cm) in diameter and no longer than 2½ inches (6.4 cm). Large foods can be cut to fit in the chamber of the Spiralizer.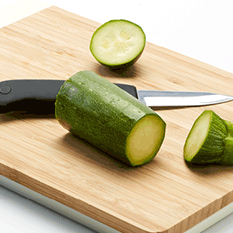 Place a single piece of the prepped food into the center of the food chamber and push onto the center spike. Test Kitchen Tip: Food should be able to stand on its own when pushed onto the center spike of the disc. If it falls over, try cutting the food a little shorter.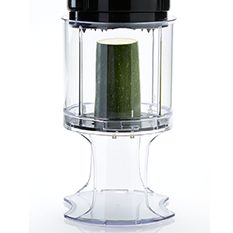 Hold the spiralizer base with one hand while holding the handle with the other. Select the desired cutting speed (HI/LO) and apply light, constant pressure while pressing the speed switch. The spiralizer will automatically stop when about 1/4 inch (0.6 cm) of food remains to prevent over-spiralizing. Use this remaining bit as a snack during meal prep!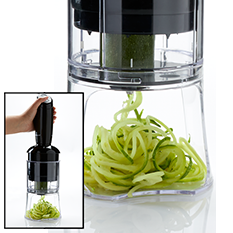 How To Clean & Store
Keeping it clean and organized.
Safety First
Be sure to unplug the spiralizer before separating the handle and cutter adapter from the food chamber.
Disassembling the Spiralizer
Remove the motor body/handle from the cutter adapter by rotating counter-clockwise.
Remove cutter food grip from cutter adapter by pulling straight down until it snaps out.
Remove food chamber from the cutter base by rotating the food chamber clockwise until it unlockUse finger holes in the cutting discs to remove them from the base.
Making It Shine
Wipe the motor body/handle and cutter adapter with a damp cloth. Never place in water or rinse under running water or other liquids.
Wash cutter base, food chamber, cutter food grip and cutting discs in hot, soapy water. To prevent inury from the blades in discs, never place discs in a sink of soapy water where they are not easily visible.
Use a brush to clean the cutter discs and the food grip.
Rinse and dry.
Storing for Next Time
For storage, assemble the spiralizer with spiral disc inserted into the cutter base to prevent damage to the disc. Store the remaining discs in the bottom of the cutter base, wrap the cord and secure with the cord storage clip on the cordset.
Foods You Can Spiralize
Top foods for the 3-in-1 Electric Spiralizer
Choosing foods for spiralizing is important to get the most out of your spiralizer. You might be surprised what a wide variety of food you can spiralize. For the 3-in-1 Electric Spiralizer, our Test Kitchen team put the Spiralizer through rigorous testing to determine which fruits and vegetables do best: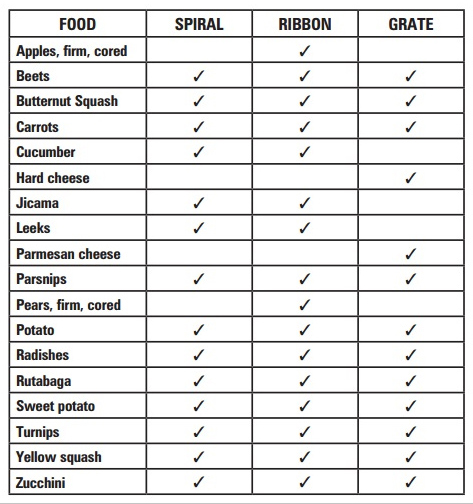 Spiral Blade: Beets, Butternut Squash, Carrots, Cucumber, Jicama, Leeks, Parsnips, Potato, Radishes, Rutabaga, Sweet Potato, Turnips, Yellow Squash, Zucchini
Ribbon Blade: Apples, Beets, Butternut Squash, Carrots, Cucumber, Jicama, Leeks, Parsnips, Pears, Potato, Radishes, Rutabaga, Sweet Potato, Turnips, Yellow Squash, Zucchini
Grate Blade: Beets, Butternut Squash, Carrots, Hard Cheese, Parmesan Cheese, Parsnips, Potato, Radishes, Rutabaga, Sweet Potato, Turnips, Yellow Squash, Zucchini
Prepping Your Food
Taking a little off the top (and bottom).
Before Spiralizing, it's important to prep your fruits and vegetables so they fit appropriately into the food chamber. Foods should be firm with no hard seeds or pits, and remember to cut both ends so each side is flat. For best results, foods should be 1-3 inches in diameter and no more than 2 1/2 inches long.