Healthy Cooking Made Easy
Spiralizing fresh vegetables is a great way to incorporate more healthy ingredients into your family's diet. We've rounded up everything you need to know - from selecting your spiralizer to delicious, nutritious recipes you can spiralize now.
Getting Started With Spiralizing
What Is Spiralizing?
Healthy cooking made easy.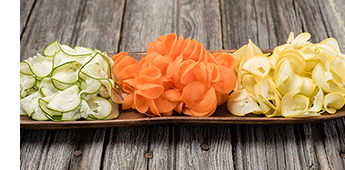 Spiralizing fresh fruits and vegetables is an easy way to lighten up your favorite meals. Make vegetable pasta with zucchini noodles, turn potato spirals into potato au gratin, or create cucumber ribbons for a summer salad—and more! While spiralizing is a great overall way to add fruits and vegetables to your diet, it's also an excellent technique for those with special dietary needs—it's vegetarian, vegan and paleo-friendly while also being naturally gluten-free and low carb.
Types of Spiralizers
How to pick your spiralizer.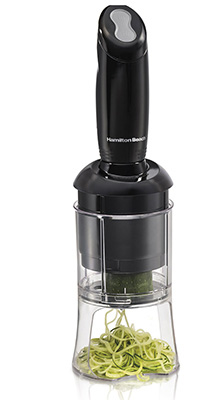 Hand-crank spiralizer models are powered by the strength of your hand and frequently require one hand to push the food, while the other hand turns the handle to rotate the food. Both horizontal and vertical models are available and ease of use can vary. Hand-crank spiralizers can be time-consuming and cumbersome due to being entirely manually operated.
Electric spiralizer models eliminate the need for manual turning and cranking. Just assemble, prep your food and spiralize. Electric spiralizers make preparing a large batch of homemade potato chips or vegetable noodles simple and quick.
With the right spiralizer in hand, you'll soon be on your way to making delicious and nutritious meals.
Use our quick-referance guide to determine which spiralizer is best for you.