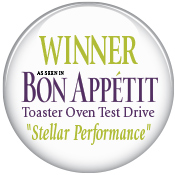 Top-rated design and performance.
You won't find a design like the Hamilton Beach® Easy Reach™ Toaster Oven with Roll-Top Door anywhere else. Its unique, large opening makes food easy to reach. And since the door opens above the oven, it frees up your countertop space in front. Best of all, it's easy to keep clean because food can't spill on the door.
But it doesn't just stop at the smart design. This innovative oven also has convection, where a built-in fan distributes heat evenly for faster, more uniform results. This technology, coupled with the ability to perfectly toast, broil and bake, has earned this toaster oven a "Stellar Performance" nod from Bon Appétit magazine. In addition, it receives consistent, 4-star consumer rankings. With a 6-slice toast capacity and two rack positions, you can cook an array of foods from snacks to sheet pan suppers.
Easy Access to Food
Sprinkle cheese on your pizza while it's baking, or grab toast in the very back without all the maneuvering. The roll-top door moves up and out of the way, so you can have safe, easy access to your food before, during and after cooking.
Easy Access to Countertop
The Easy Reach™ Toaster Oven door rolls up, not down, making it easy to move your food from the oven directly to your plate when it's done.
Easy to Keep Clean
Melted cheeses, crumbs and juices are less likely to end up on the door because the door is never under the rack when food is being removed or put into the oven. The roll-top door and the crumb tray are both removable for cleaning.
A Countertop Must-Have
The Easy Reach™ Toaster Oven with Roll-Top Door is a favorite among home chefs and industry leaders as well. Its average rating is 4-stars, and has been named a Winner for Toaster Oven Test Drive by Bon Appétit magazine.