Slow Cooker
CPSC, Hamilton Beach/Proctor-Silex Announce Recall Of Slow Cookers
In cooperation with the U.S. Consumer Product Safety Commission (CPSC), Hamilton Beachand Proctor-Silex are voluntarily recalling about 2.7 million Slow Cookers. The handles on the base of the slow cookers can break, posing a risk of burns from hot food spilling onto consumers.
The company has received 4,700 reports of handles breaking, including two reports of consumers who required medical attention for burns.
The recalled slow cookers were sold under the Hamilton Beach and Proctor-Silex brand names, which are printed on the front of the base of the unit. The slow cookers are either round or oval, and were sold in solid white and various print designs. They have a capacity of 3.5 to 6.5 quarts. The slow cookers have series codes A through Dwhich are printed on the bottom along with the model number.
Brand Names

Model Numbers

 

HamiltonBeach

 

33390, 33475, 33575, 33590, 33675, 33690, 33725, 33850, 33860

 

Hamilton Beach/Portfolio

 

33680

 

Proctor-Silex

 

33320, 33320FD, 33325, 33375, 33380, 33625A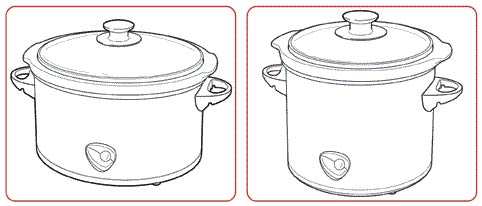 Discount department stores nationwide sold the slow cookers from 1999 to 2002. The slow cookers sold for between $15 to $45.
Consumers should stop using these slow cookers immediately. Call Hamilton Beach toll free at 1-800-429-6363 any time for instructions on how to participate in the recall.<
In Canada, please call 1-866-280-8016 toll free from 8 a.m. to 6 p.m., Monday to Friday and 9 a.m. to 5 p.m. on Saturday EST.
Au Canada, veuillez composer sans frais le 1-866-280-8016 entre 8 h 00 et 18 h 00, du lundi au vendredi inclusivement et entre 9 h 00 et 17 h 00 le samedi HNE.
The U.S. Consumer Product Safety Commission is charged with protecting the public from unreasonable risks of serious injury or death from more than 15,000 types of consumer products under the agency's jurisdiction. Deaths, injuries and property damage from consumer product incidents cost the nation more than $700 billion annually. The CPSC is committed to protecting consumers and families from products that pose a fire, electrical, chemical, or mechanical hazard or can injure children. The CPSC's work to ensure the safety of consumer products - such as toys, cribs, power tools, cigarette lighters, and household chemicals - contributed significantly to the 30 percent decline in the rate of deaths and injuries associated with consumer products over the past 30 years.
To report a dangerous product or a product-related injury, call CPSC's hotline at (800) 638-2772 or CPSC's teletypewriter at (800) 638-8270 or visit CPSC's Web site at www.cpsc.gov/talk.html. Consumers can obtain this release and recall information at CPSC's Web site at www.cpsc.gov.