You've brined, trussed, seasoned, stuffed, cooked, and now your perfect turkey sits in front of you. It looks so amazing you really don't want to touch it. Hence, turkey troubles arise. Guests are waiting, your family is hungry, but you're stuck. After all, carving the turkey messes up the presentation.
Here's the solution. First, take a picture so you can continue to admire your cooking masterpiece for years to come. Second, follow our handy tips on how to carve a turkey. Third, sit down and enjoy a great meal with family and friends.
Carving Step-by-Step
Carving is a process, but it's easier than you think. Follow our simple steps using either a sharp slicing knife or an electric knife. If using an electric knife, keep in mind cutting is one smooth motion. The knife does the work for you.
After allowing turkey to rest for 15-30 minutes, place on a cutting board. For extra stabilization, put a damp kitchen towel under the cutting board to prevent it from sliding. Have your serving platter nearby.


Cut and remove the string used to hold the legs together.


Gently pull the thigh away from the cavity of the turkey and move the knife through this area to cut through the joint. This cut separates the leg and thigh from the body. Cuts made with the electric knife should be one smooth motion. Do not move the electric knife back and forth as you would with a traditional carving knife.


Repeat this process on the other side. At the joint in the leg, remove the drumstick from the thigh using the knife to cut through. Once removed, lay the thigh skin-side down and remove the bone using a paring knife. Be sure to remove any cartilage as well.


Flip the thigh over, cut into slices, and transfer to the serving platter.


Gently pull the wings away and slice through the joint to remove.


To remove breast meat, find the breastbone and carefully cut down along the ribcage. A cut can also be made from the bottom up for easier removal. Repeat on the other side.


Slice horizontally across the breast to create slices. A sharp knife or electric knife will easily glide through.


Transfer sliced turkey onto platter. Use the drumsticks to accent your presentation.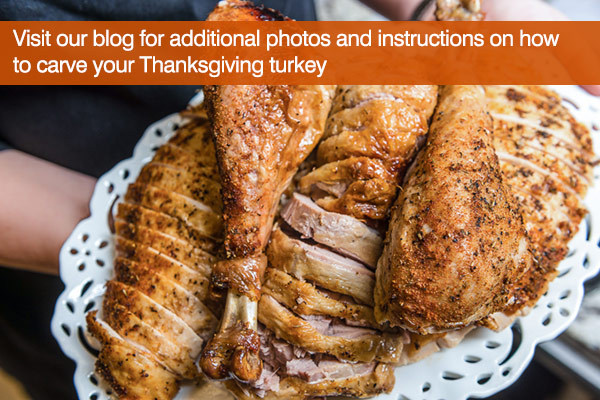 ---
Additional Turkey Tips & Techniques
How to Carve a Turkey >